We are very excited to commence 2022 with utmost hope and renewed commitment towards better health, equality, and social justice especially to key, vulnerable, and marginalised populations across Asia-Pacific. And what a better way to begin this year with the launch of our newest report on universal health coverage (UHC)!
This new report, titled From Left Behind to Front and Centre: Key messages from UHC groups group discussions among vulnerable and marginalised groups in Bhutan, Cambodia, India, Japan, Lao PDR, Nepal, Pakistan, and Vietnam, is a collaboration between APCASO and the Civil Society Engagement Mechanism for UHC2030 (CSEM) to gather the voices of the most marginalised and vulnerable communities and their experiences with UHC. Consultations in 8 countries from Asia-Pacific have been conducted in 2021, in which a total of 213 individuals representing diverse communities, including the most vulnerable and marginalised have been invited.
This synthesis report shares the concerns and recommendations of the very people who often have the greatest need for health care and financial or other assistance to access it – the people that UHC is designed to support, and the people who currently risk being left behind.
Several country sheets on Universal Health Coverage are also available. You may click on any of the photo below to download: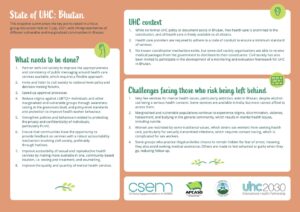 Bhutan (also available in Dzongkha)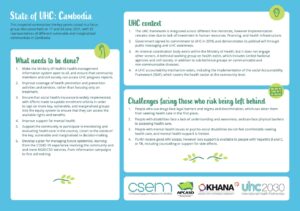 Cambodia (also available in Khmer)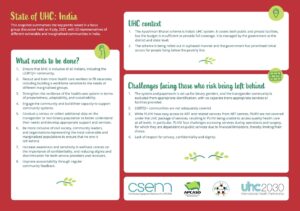 India (also available in Hindi)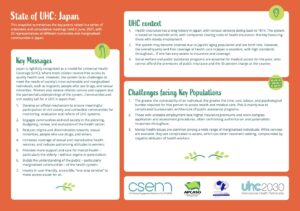 Japan (also available in Japanese)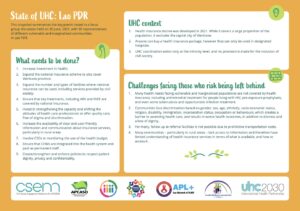 Lao PDR (also available in Lao)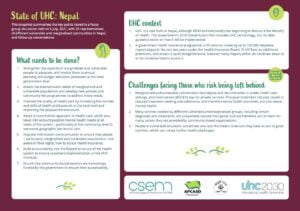 Nepal (also available in Nepali)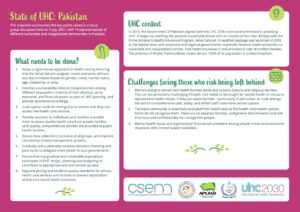 Pakistan (also available in Urdu)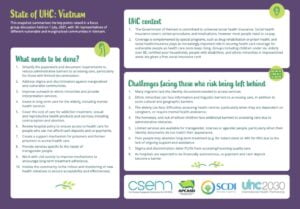 Viet Nam (also available in Vietnamese)