by Quentin Batréau, APCASO Secretariat
APCASO joined the Rights, Resources & Resilience Asia Pacific (RRRAP) conference organized by APCOM in Bangkok this November 13th-15th. The meeting was a blast, and an amazing opportunity for HIV activists from across the region to meet and exchange on today's most pressing issues.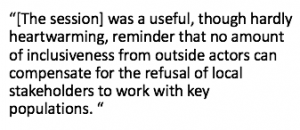 Jennifer Ho and I animated a session during the conference with the help of Johnny Tohme from MSMGF, titled Passage To Meaningful Engagement – Improving the understanding of the opportunities and challenges for community engagement in the Global Fund processes.  The session was an opportunity for participants to look back at the last funding cycle, looking to identify opportunities and challenges they faced when engaging with Global Fund processes. Eric Fleutelot from the French 5% and Noah Metheny from the Global Fund's Community, Rights, and Gender (CRG) Department joined us and discussed with the participants their respective technical assistance programs and the ways in which either could be used to support efforts from civil society to engage with the Global Fund.
The discussion with the participants was a mix of optimism and concerns. While the Global Fund's policy to mandate community engagement throughout its processes was welcomed and even praised by the participants, they also stressed the distance between the intent of the policy and its implementation. Too often, they explained, community representative were not given the chance to meaningfully engage, especially within the country coordinating mechanisms (CCMs).
The participants raised two other types of barriers to engagement that come up less often in this type of discussion.
One participant from Afghanistan stressed that though he appreciated that the Global Fund created institutions for community to engage, the fact was that if all key populations are criminalized, there is very little that can be done. It was a useful, though hardly heartwarming, reminder that no amount of inclusiveness from outside actors can compensate for the refusal of local stakeholders to work with key populations.
Another participant from the Philippines talked about a different kind of barrier that emerged out of the political context in which communities have to work. She explained that the change of decision makers in power would require restarting the advocacy and partnership, and would often become difficult if newly elected officials belong to the opposing party.
The session was too short to fully explore the many elements that came out of the discussions, but APCASO hopes to soon follow up with a fully fledged study looking at civil society and community's experience in the last funding cycle, since one needs to know history in order not too repeat it.