In Asia and the Pacific, the Activists Coalition on TB – Asia Pacific (ACT! AP) has been in the forefront in building the capacity of civil society organizations and TB-affected communities towards meaningful community engagement in the TB response, and in advocating governments towards a coordinated and well-funded TB response. Since its inception in 2016, the coalition and its members have worked with various civil society, TB-affected communities and TB survivors, and technical partners and national governments. However, there has not been an exercise that captured the breadth of reach of ACT! AP's work at the country level, primarily in terms of engaging and building the capacity of TB-affected and TB survivor groups.
Thus, this exercise aims to map out the reach and kinds of support that ACT! AP members have provided in the countries in Asia and the Pacific. Specifically, this survey aims to:
Map out TB survivor groups, TB support groups, NGOs, CBOs, civil society, key population, or TB-affected community organizations working on TB that ACT! AP and APCASO civil society partners have engaged or supported in terms of forming and/or strengthening the former's organization since 2017;
Identify the type of support that ACT! AP civil society partners have provided in relation to engaging with the national level or community level community partners; and
Identify potential support needs in enhancing or strengthening the current engagement with the local or national civil society partner
Using a simplified Community Strengthening Systems Framework and employing a short online survey, this report hopes to build a case on the contribution of ACT! AP in the national and regional TB responses, particularly with regards to community mobilization and engagement. This will provide insight into the extent of the work that ACT! AP had conducted in reaching out to country and local level partners since its inception in 2016.
From the 16 respondents belonging to an ACT! AP member organization who responded to the survey, and by reviewing secondary sources, some key findings were observed:
Some ACT! AP members started from the HIV advocacy and response and have utilized cross-learning strategies to address the TB response, especially among communities that are affected by comorbidities of TB and HIV. There were also ACT! AP members who started as a TB community-led organization.
Almost all ACT! AP members have provided either mobilization (81.25%), partnership (81.25%), and/or technical support (81.25%) to community groups (either organized or in the process of) or partner civil society organizations. More than half (68%) of the organizations have provided funding support. ACT! AP's regional-level initiatives have also provided small funds to partner organizations to conduct trainings.
Since 2017, 78 community-led organizations have been mobilized by ACT! AP members in various countries where ACT! AP is present. Eleven (11) CSOs were partnered in certain projects and interventions, and 12 technical partners and government agencies were collaborated (such as CCM and the national TB programme).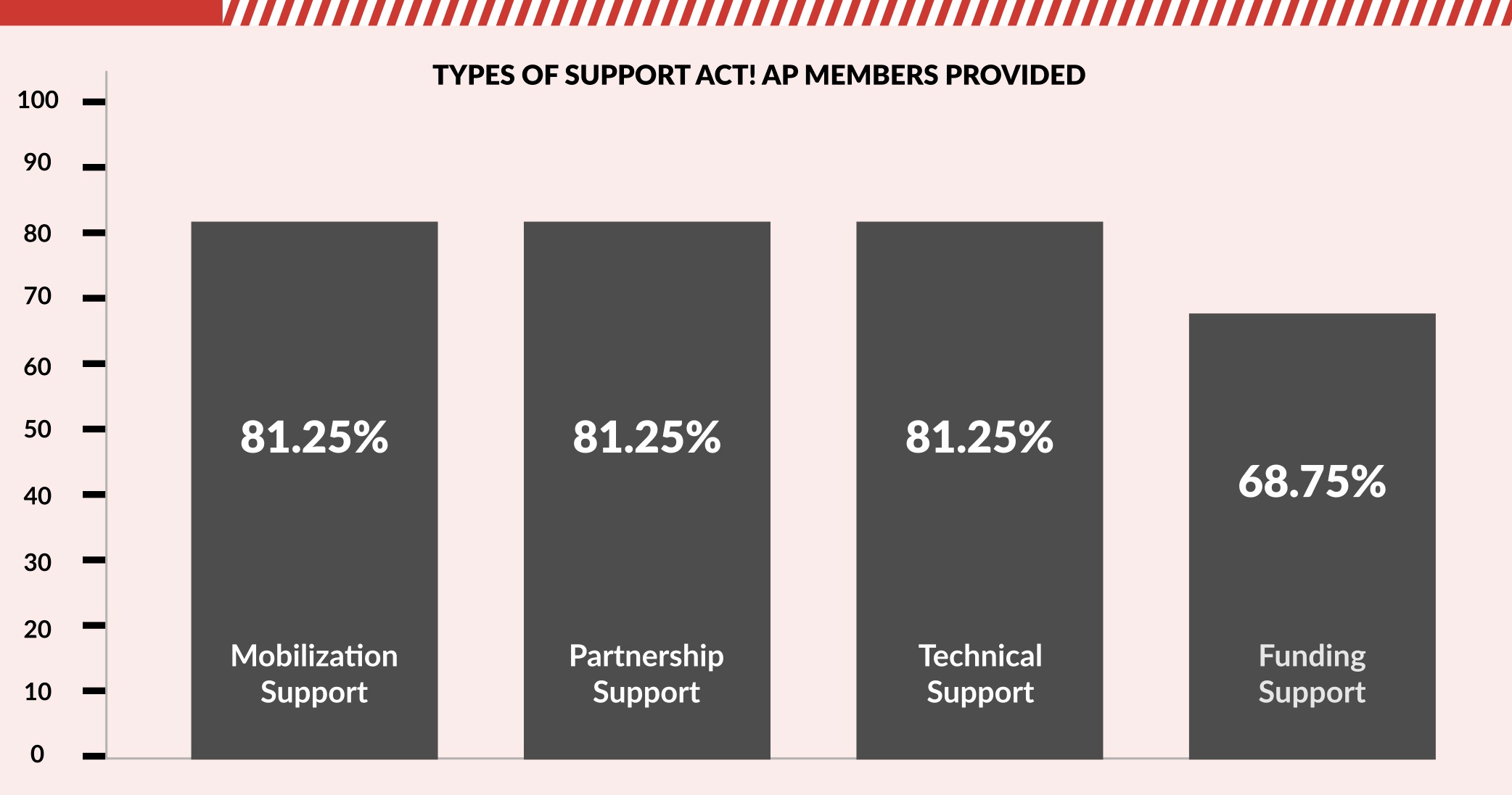 However, for these various efforts by civil society organizations and TB-affected communities to be sustained, significant amount of support and approaches are still needed. ACT! AP members who participated the survey recommended a number of ways that will sustain their work at the country and regional level:
Funders, donors, and national governments must provide specific organizational support, such as in capacity development, fundraising, and communication skills.
Community networks need to initiate and include areas of convergence with other health and social issues, such as migration, maternal and child health, and non-communicable diseases.
Support ACT! AP's need to expand its geographic coverage to cover countries that have not yet previously covered, and increase ACT! AP membership.
Civil society organizations must be encouraged to engage with and invite younger community members to sustain the TB movement.
Strengthen national Stop TB partnerships.
Leverage ACT! AP in sharing country learnings and expertise; sustain networking.