The Global Fund has just released the list of countries eligible for Global Fund support, following its declaration that the 5th Replenishment was successful. (Read: The 5th Global Fund Replenishment was declared successful – so what's next?)
Here's the list of eligible country components for countries in the Asia-Pacific Region:
Eligible for HIV, TB, and Malaria components – Afghanistan, Bangladesh, Bhutan, Cambodia, DPR Korea, India, Indonesia, Lao PDR, Myanmar, Nepal, Pakistan, Papua New Guinea, Philippines, Thailand, Timor Leste, and Vietnam.
Eligible for HIV and TB components – Kiribati, Malaysia, Maldives, Marshall Islands, Micronesia, Mongolia, Sri Lanka, Tonga, and Tuvalu
Eligible for HIV component – Iran
Eligible for TB component – Palau
Sri Lanka's malaria component is no longer eligible for the current allocation period. Fiji was eligible for the TB component only in the previous allocation period but it is now completely ineligible for Global Fund support. Based on current Sustainability, Transition, and Co-Financing Policy, countries may apply for transition funding for components that have recently become ineligible. They also may still get support from multi-country grants, provided that the 51% of the countries included in the funding are eligible for the same component they are applying for.
Eligibility for Global Fund support is based on income classification (as determined by the World Bank) and disease burden indicators (based on indicators from the WHO and UNAIDS).
Country components are taken out of the eligibility list if:
A country reaches "high income" classification

A country moves to Upper-Middle Income status and with low or moderate disease burden

A Upper-Middle Income status country's disease burden decreases to low or moderate;

A G20 country mores to UMI status, and disease burden is less than extreme; and

A country joins the Organisation for Economic Co-operation and Development's (OECD) Development Assistance Committee (DAC)
Transition projections
In line with its new Sustainability, Transition and Co-financing Policy, where the Global Fund will proactively encourage and support countries to prepare for transition 10 years before funding is expected to end.
The Global Fund has also released an indicative, "non-binding" list of "transition projections" of countries or country components that aim to help country stakeholders in planning for a successful transition from Global Fund support.  This was developed by forecasting which of the eligible countries or country components may stop being qualified for Global Fund financing due to changes in their income classification (for example, becoming an upper middle income country with low or moderate disease burden, or becoming a high income country). The methodology for this indicative forecasting assumed that disease burden is constant.
Based on these projections, by 2025, 24 countries are expected to have at least one components becoming ineligible for GF funding and 13 countries fully ineligible for Global Fund support, three of which are from the Asia-Pacific region.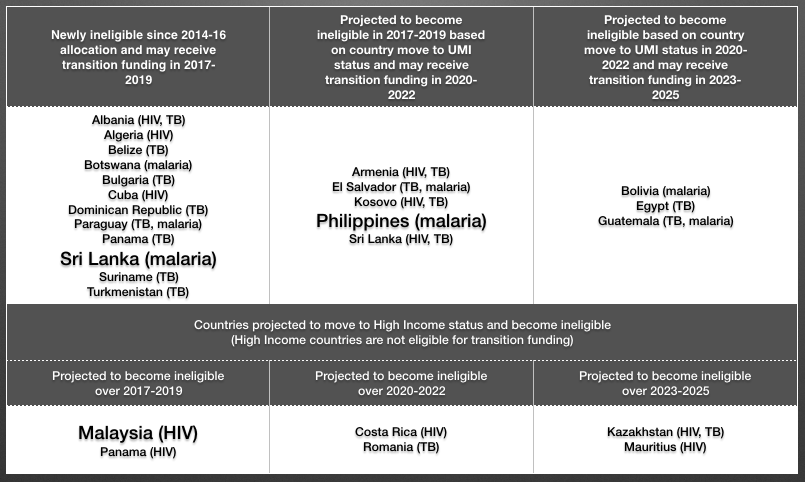 Get the entire eligibility list here, and learn more about the Transition Projections here.